About

My Journey
I thought I was healthy and in the prime of my life, working as a personal trainer, weight loss counselor, and yoga instructor until reality hit me hard in 2012.
After regaining my livelihood through sobriety and losing over 100 pounds, I found myself sicker than ever with my autonomic nervous system shutting down.
I was bed-bound 16-18 hours a day, and had no idea why.
While bouncing from specialist to specialist searching for answers, I found out first hand just how flawed our healthcare system can be at times – and this was one of those times. I've come to hate the word idiopathic after hearing it more than a few times.
I experimented with different methods of eating, supplements, began swapping household and body-care products with ones that were more natural, and I became painfully aware how much what we expose ourselves to in our environment, on our skin, and even emotionally affects our bodies.
The collective amount of not only emotional stress, but physical stress, can drastically affect our health.
By the time I was diagnosed with Postural Orthostatic Tachycardia, Dysautonomia, and Ehler-Danlos Syndrome, I already was well on my way of managing it naturally.

Today, the threat of disability is a thought of the past and my health is mainly managed through holistic methods, lifestyle modification, and supplementation.
My own experience made it very apparent that my path in life is still in health and wellness; guiding you to become empowered in your own health, your wellness, and in showing you how you can thrive in a way that works for you no matter what the circumstances. Showing you exactly how each piece of the puzzle comes together.
You deserve to live a life that excites you in a body that you love.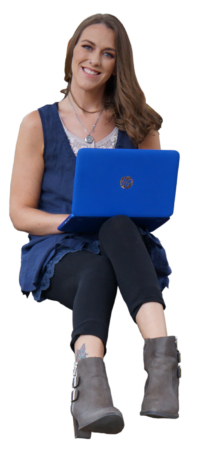 I've personally spent too much time trying to fit into the conventional boxes that today's society leads us to believe is required in order to be happy.
What happened when I ditched that mentality was nothing short of amazing. I was free from the barriers and finally stopped struggling.
In a life where it's felt like I missed the magical instruction manual everyone else seemed to have, I've:
Successfully lost over 100 pounds over 18 months by creating realistic and sustainable "tweaks" that worked for me and many others. I can show you how.
Been able to let go of limiting beliefs that held me back from truly living. You can too!
Learned to look the world in the eyes with no apologies and speak my authentic truth with kindness and love. Wouldn't it be nice to finally embrace yourself for the miracle you really are?
Found ways to accept and thrive in spite of my health "challenges" by holding boundaries around my health and supporting my body in ways that allow me to live a life that looks pretty damn good. How often do you let your challenges act as your scapegoat?

Experienced life without seeking things like food, drugs, or alcohol to cope and fill a deeper internal void… and found that it's actually pretty frigging amazing. Do you want to find healthy and enjoyable outlets that don't lead to guilt and shame?
Learned to let go of who I used to be (along with the guilt and shame) and have grown into who I am today, leaving space for who I'll become tomorrow. I can help you to set down your baggage and find self-forgiveness.
Become present in my own life and learned to embrace my gifts instead of changing or muffling them. I want my voice to be heard. I want you to find your happiness and thrive. I want to help you to wake up every morning excited to get out of bed too!
My Fam
I'm married with two amazingly gifted kiddo. My hubster is my inspiration and my cryptonite, the yin to my yang. We also have a dog and 3 cats, each one with tons of personality.
I understand first hand that today there is no such thing as a normal family.
I also understand that there's nothing wrong with that!
My Background
Professionally, I've been in the health and wellness industry for over a decade as a nutrition counselor, weight loss specialist, personal trainer, yoga instructor, essential oils expert, holistic health coach, meditation teacher, life-hacker, and small business owner.
I've worked individually with hundreds, helping them to re-claim their lives in a healthy way.
I'm driven by your victories and successes.
My Hobbies
I'm a child of summer. I love anything outdoors, especially frollicking!
One of the biggest gifts of being at a healthy weight is that I can play outdoors, both by myself and with the kids! 
I'm a glutton for knowledge… I LOVE learning! Especially anything that is spiritual, self-improvement, fitness, or eating related. (Really anything health and wellness.)
You can usually find me playing hockey at the ice rink or on the lake kayaking or stand up paddle boarding. I collect fitness equipment, crystals, mala beads, and cool office supplies, tech gear, and my guilty pleasures are skin care and playing with different make-up techniques. 
I have a lot of quirks and thankfully, I embrace them, using them to better share my gifts with you.
Ready to create a life to be excited about?